Search within these results:
Results

Montreal, h3m2x2
Canada
Specialised in Middle-eastern entertainment for all your events! DJ's, Live Bands and singers, Belly Dancers, Zaffe Groups, and much more!
4555 Autoroute 440
Laval, H7P 4W6
Canada
We go nuts for you!
Bassé est une entreprise canadienne spécialisée dans les noix et les fruits séchés de haute gamme.
1627 Curé Labelle
Laval, H7V 2W6
Canada
Épicerie
Charcuterie
Grillades sur Charbon
4231 boul. Samson, Chomedey
Laval, H7W 2G8
Canada
GRILLADES SUR CHARBON DE BOIS
*Soujouk *Basterma *Kebab
*Grillades pour emporter *Shish Taouk
3300 Boulevard Industriel, laval
H7L 4R9
Canada
-En 1983, le premier restaurant Amir a ouvert ses portes au Centre-ville de Montréal
465 Lavergne
Laval, H7X3L7
Canada
D.J R.H music for all your occasions 514-573-7737
Also female Dj (D J alloumme) for contact call 514-804-2334
751, Boulevard de la Côte-Vertu,
Montreal, H4L 1Y3
Canada
El Marino Cote Vertu ( Le Capitaine du poisson frais ) Ouvert 7 jours de 11:00 am a Minuit Livraison Gratuite !! Free Delivery 7 days
755 boul St-Jean, Suite 600, Pointe-Claire
H9R 5M9
Canada
Mortgage specialists
2001 Rue Sauvé O
Montréal, H4N 3L6
Canada
***Un Univers de Fraîcheur***

Veuillez visiter nos 4 succursales à Sauvé, boulevard des Sources, Laval et Place Vertu
12208 boul. Laurentien
Montréal, H4k 1M9
Canada
Authentic Lebanese cuisine and enjoy the live sounds of the folkloric music and dancing.
Featured Classifieds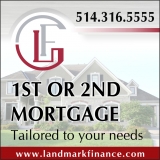 Buying Home? Ask About our Free Mortgage
Buying home? No down payment? No problem! 100%