Search within these results:
Results
4789 de Salaberry
Montreal, H4J 1H7
Canada
We are a group of art savvy individuals who who knows the fundamentals of good ART. we are editing music, design and motion with cutting-edge digital
3975, bd St Martin O.
Laval, H1X 1G4
Canada
Une fleur peut tout dire....
A flower can say it all...

www.lagracedesfleurs.com
755 boul St-Jean, Suite 600, Pointe-Claire
H9R 5M9
Canada
Mortgage specialists
10550 Papineau
Montreal, H2B 2A5
Canada
Voice of The Lord Radio
Online Catholic Radio by Internet 24h / 24
صـــــوت الـــــرب'' إذاعة كاثوليكية م"
3767, Thimens suite 201
Montréal,
Canada
Enfin un hébergement web Gratuit!!!
Web Host Freedom at Last!!!
877 Décarie
Ville St-Laurent, H4L 3M2
Canada
Featured Classifieds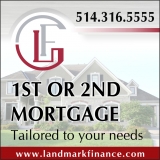 Buying Home? Ask About our Free Mortgage
Buying home? No down payment? No problem! 100%