Search within these results:
Results
755 boul St-Jean, Suite 600, Pointe-Claire
H9R 5M9
Canada
Mortgage specialists
1411 rue Peel, suite 601
Montréal, H3A 1S5
Canada
150 , BOULEVARD DE LA CÔTE-VERTU #201
Montreal, H4N 1C6.
Canada
One click takes you to our Classy services where you will find a wide variety of Airlines, Hotels, Cars reservations and vacation packages.

Our
1805, Sauvé Ouest, suite 201
Montréal, H4N 3B8
Canada
Flights
Specialized programs
Groups
All included
Cruises
Hotels
Cars
Insurance
2175 Benjamin Sulte
Montréal, H3M 1R8
Canada
www.lassuranceinc.ca
Assurance: Autos-Habitation-Commercial-Voyage Santé-Vie
Insurance: Car-Residential-Commercial-Travel
3438, St Denis- suite 201
Montreal, H2X 3L3
Canada
votre SPÉCIALISTE en Moyen-Orient pour les forfaits de voyage et plus.....

Your SPECIALIST in the
9520 boul. de l'Acadie
Montréal, H4N 1L8
Canada
Service de qualité meilleurs prix.
Featured Classifieds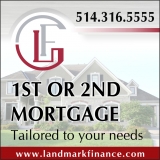 Buying Home? Ask About our Free Mortgage
Buying home? No down payment? No problem! 100%